Suitcases for Children
This item is normally only sold in the store. We are offering this item in our online store as long as our stock lasts.
For other suit cases, take a look at page "Soft Toys, Dolls, Toys and Games / Sass & Belle.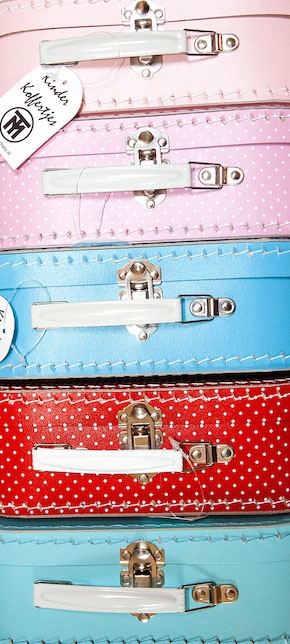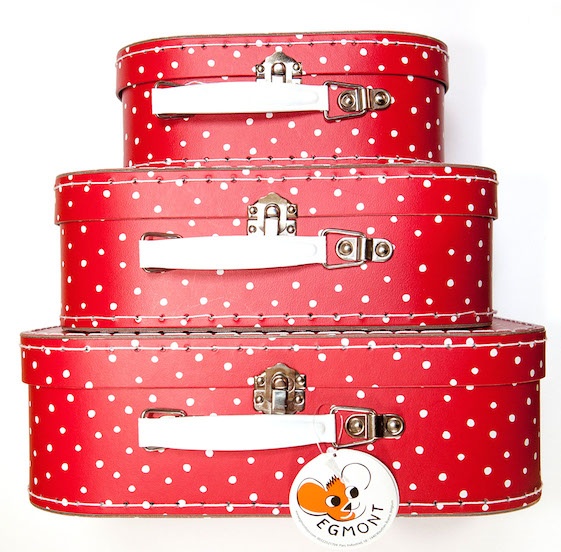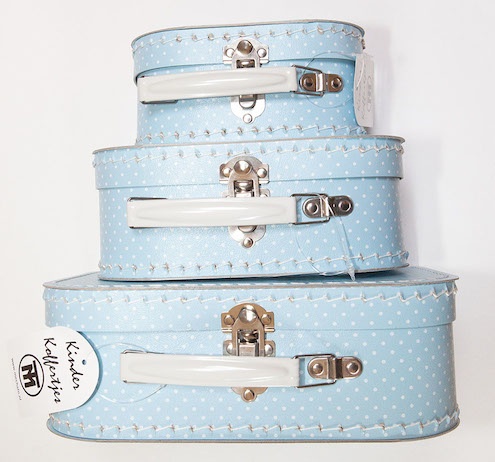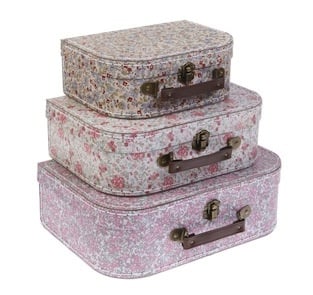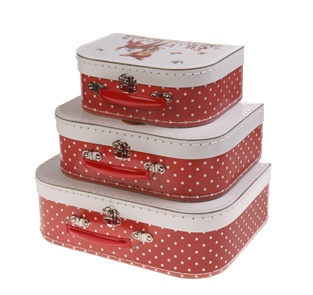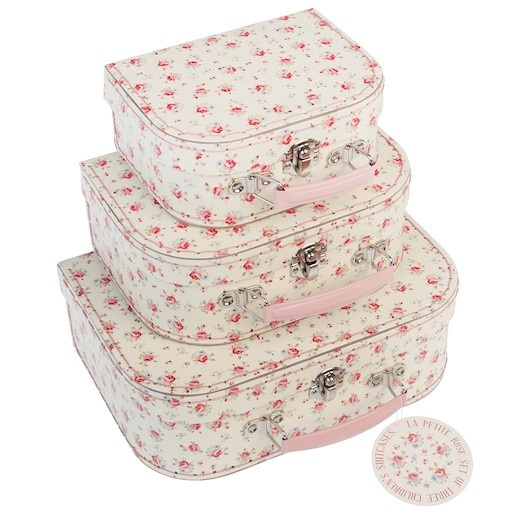 Traditional suitcases for children made from high quality hardboard.
Dimension: 8,5 cm height 17,5 depth 25 cm width.
Great for play, trips and a stylish way to keep toys, like dolls, and odds tidy. Can also be used as a sewing box.
Available in various solid colours and polka dotted.
Arriving soon: flowery vintage and Heidi vintage suitcases.
Le Petite Rose Suitcase Set (Set of 3)

Set of three La petite rose children's mini cases with baby pink flowery design and pink stitching detail. Pink metal handle and clasp. In firm quality hardboard. Sizes: Large: 8.3 cm x 25 cm x 18 cm ; Medium 7.5 cm x 20.5 cm x…

€ 20,00

Suitcases

Traditional suitcases for children made from high quality hardboard in solid colors and polka dots. Dimension: 8,5 cm height 17,5 depth 25 cm width.
Polka dot red-white also available but not shown on image!!

€ 9,95

Polka Dot Blue White Suitcase Set (Set of 3)

Set of 3 hardboard Suitcases, with polka dot print red and white. Sewn by hand, firm quality with a metal handle and slot. To keep and take along all your small treasures.

€ 23,00

Polka Dot Red White Suitcase Set (Set of 3)

Set of 3 hardboard Suitcases by Egmont Toys, with polka dot print red and white. Sewn by hand, firm quality with a metal handle and slot. To keep and take along all your small treasures.
Size largest suitcase : 29 x 9 x 20 cm.

€ 25,50

Poppy Lunch Bag / Cool Bag

Practical lunch bag and cool bag with folie isolation to keep food fresh and drinks cold.

Size: 20 cm wide x 14 cm high x 12 cm depth

€ 6,50

Wooland Lunch Bag / Cool Bag

Practical lunch bag and cool bag with folie isolation to keep food fresh and drinks cold.

Size: 20 cm wide x 14 cm high x 12 cm depth.

€ 6,50

Le Petite Rose Lunch Bag / Cool Bag

Practical lunch bag and cool bag with folie isolation to keep food fresh and drinks cold.

Size: 20 cm wide x 14 cm high x 12 cm depth.

€ 6,50

Daisy Lunch Bag / Cool Bag

Practical lunch bag and cool bag with folie isolation to keep food fresh and drinks cold.

Size: 20 cm wide x 14 cm high x 12 cm depth.

€ 6,50

Geometric Lunch Bag / Cool Bag

Practical lunch bag and cool bag with folie isolation to keep food fresh and drinks cold.

Size: 20 cm wide x 14 cm high x 12 cm depth.

€ 6,50