DollyMo Brushed Wool (TO BE DISCONTINUED)
Reduced in price and to be discontinued - 45% discount of original price !!!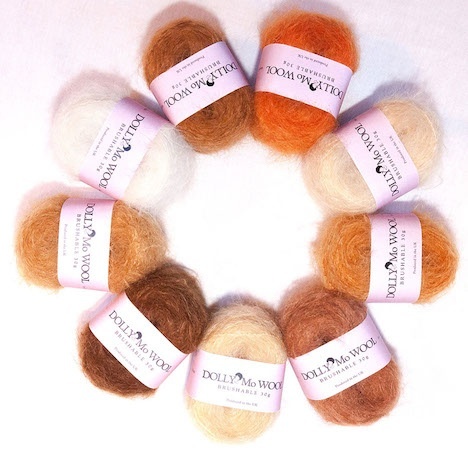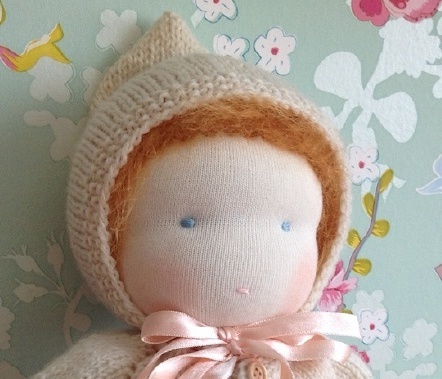 The doll shown above for infants/toddlers has a wig made of DollyMo Wool in the colour "Copper". For this doll Swiss tricot has been used in the colour "Natural/Nature" (nr. 291).
This kind of yarn is ideal for making wigs for dolls meant for infants/toddlers as the fibres are short with less chance of being swollowed.
To bring to your attention:
The new version of "DollyMo" wool is somewhat different from the original. As we are dependent on the mill for production and wool is a natural product, it can indeed be different. However the quality and composition is exactly the same consisting of 74% wool, 23% mohair and 3% nylon, approximately 90 meters of yarn for a 50 gram ball. The difference is that the new wool has a thinner binding thread and the hairs are shorter. As the hairs are shorter there is less chance for infants and toddlers to swallow it. We recommend this wool to be used for smaller dolls.
The new DollyMo version "wool" is available in 9 lovely natural colours:
natural white
natural blonde
strawberry blonde
caramel
brown auburn
light brown
brown
copper
ginger red
Per ball: 50 grams approx. 80 meters.
A core spun yarn with a coarse and thin binding. Excellant for use on smaller or larger dolls.