Mohair Fur Fabric Steiff Schulte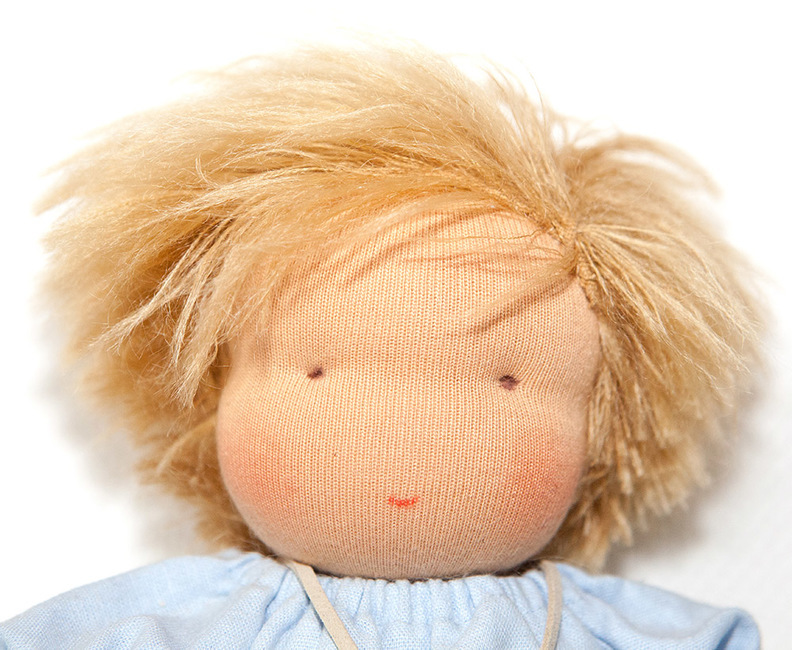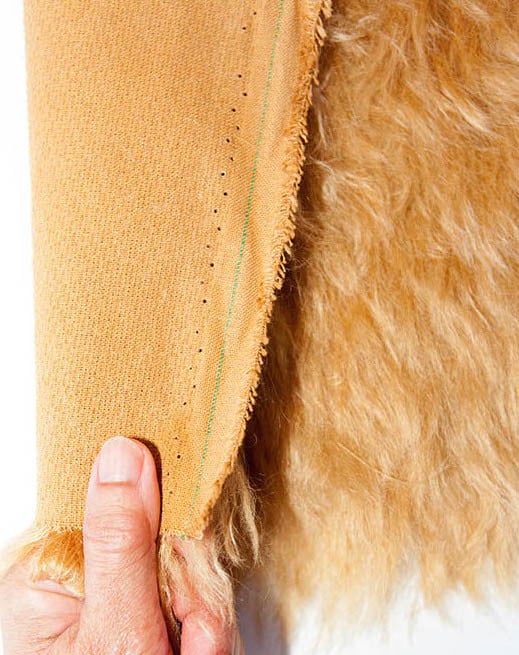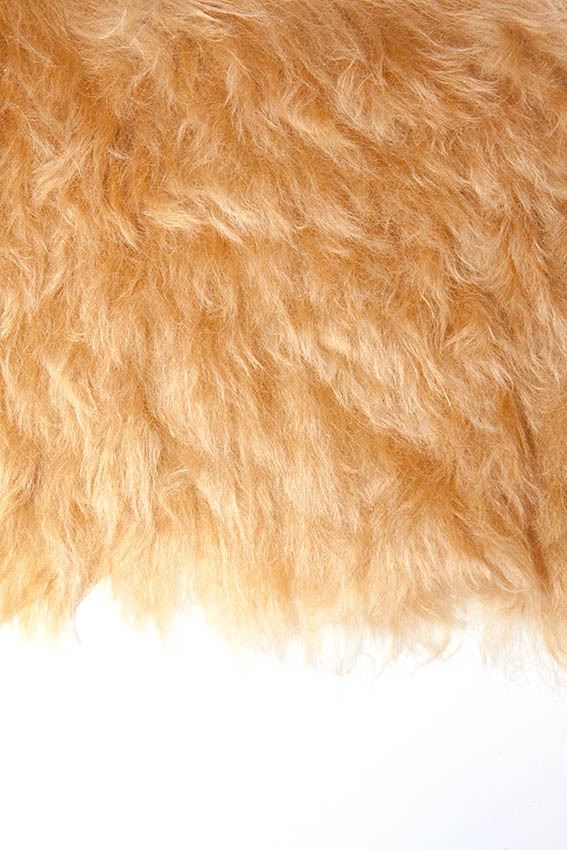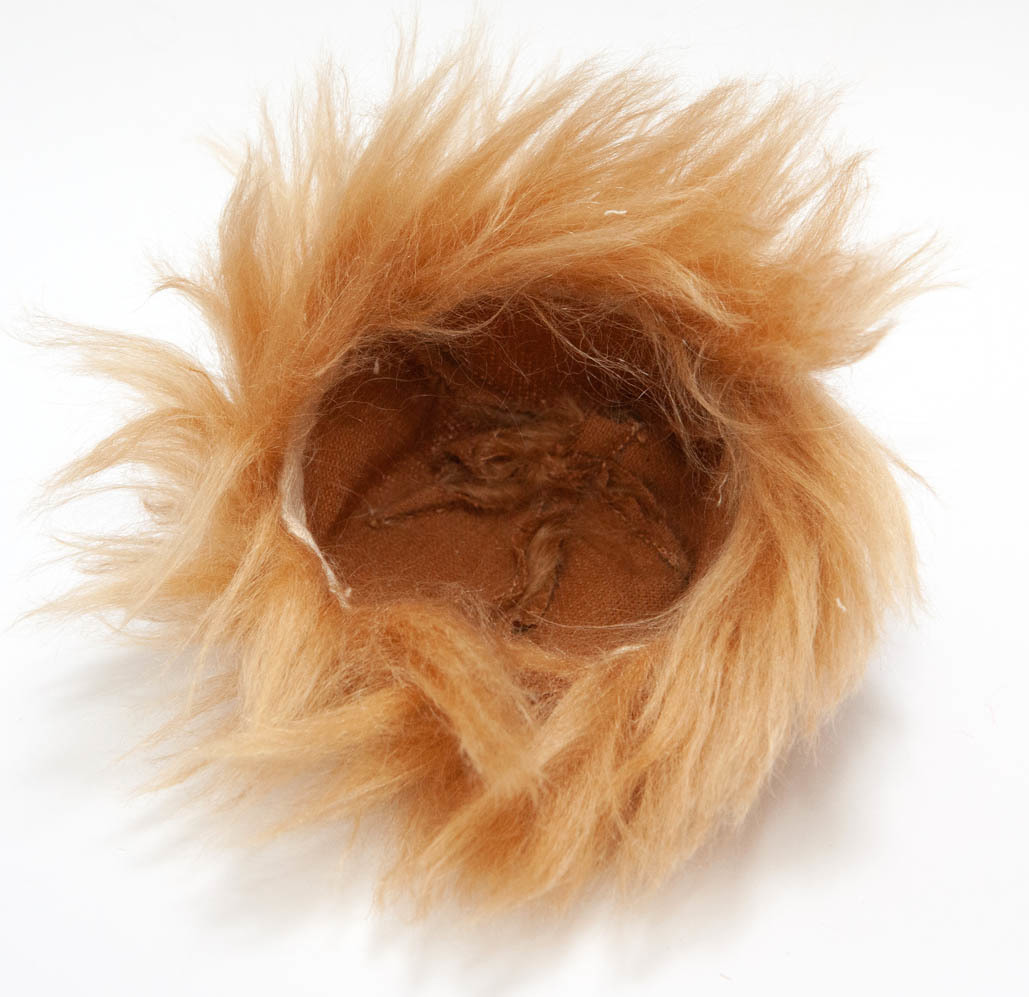 Composition: pile 100% mix of wool and mohair.
Reverse side of the fabric is 100% woven cotton.
Mohair Fur (Plush) Fabric Steiff Schulte, fur pieces of: 20 cm (height) x 25 cm (width) ideal for the Waldorf doll size 38 cm.
Middel thick caramel fur with a slight wave, long pile 70 mm.
These furs are recognizable by the green strip on one selvage (finished edge) and 3 green strips on the other edge.
Lalidolls on Etsy have a variety of patterns:
https://www.etsy.com/listing/98120092/pdf-pattern-doll-wig-cap-tibetan?ref=shop_home_active_15
Mohair Steiff Schulte no. 4114 "Zand kleur" New!

Price: per piece 20 cm x 25 cm

Medium dense, wild structured (curled) mohair

- Material: mohair
- Pile: app. 41mm
- Density: medium dense
- Structure: curled
- Weight: app. 770g per meter
- Manufacturer: Steiff Schulte

€ 8,10

Mohair Fur Steiff Schulte no. 573 "Brown tipped" New

Colour is brown tipped

Be aware that this fur has a brown colour at the tip and blond at the root of the fabric!

Price: per piece size 20 cm x 25 cm

Rather dense, slightly curled, tipped mohair

- Material: mohair
- Pile: app.…

€ 8,10

Mohair Fur Steiff Schulte no. 4104 "White"

Composition: pile 100% mix of wool and mohair.
Reverse: 100% woven cotton.Per piece: 20 cm x 25 cm (height x width),size suitable for een wig for doll size 38-40 cm.
At purchase of 2 pieces the fabric will not be cut in one piece…

€ 8,10

Mohair Fur Steiff Schulte no. 4101 "Blonde" New!

Price: per 20 cm x 25 cm piece

Rather dense, straight mohair, available in 6 colours. This fabric has a very rich appearance.

- Material: mohair
- Pile: app. 70mm
- Density: rather dense
- Structure: straight
- Weight: app.…

€ 8,10

Mohair Fur Steiff Schulte no. 4100 "Honey Blonde"

Composition: pile 100% mix of wool and mohair.
Reverse: 100% woven cotton.Per piece: 20 cm x 25 cm (height x width),size suitable for een wig for doll size 38-40 cm.
At purchase of 2 pieces the fabric will not be cut in one piece…

€ 8,10

Mohair Fur Fabric Steiff Schulte no.4102 "Golden Blonde"

Composition: pile 100% mix of wool and mohair.
Reverse: 100% woven cotton.Per piece: 20 cm x 25 cm (height x width),size suitable for een wig for doll size 38-40 cm.
At purchase of 2 pieces the fabric will not be cut in one piece…

€ 8,10

Mohair Fur Steiff Schulte no. 4113 "Brown" New!

Price: per 20 cm x 25 cm piece

Medium dense, wild structured (curled) mohair

- Material: mohair
- Pile: app. 41mm
- Density: medium dense
- Structure: curled
- Weight: app. 770g per meter
- Manufacturer: Steiff Schulte

€ 8,10

Mohair Fur Steiff Schulte "Black"

Composition: pile 100% mix of wool and mohair.
Reverse: 100% woven cotton.Per piece: 20 cm x 25 cm (height x width),size suitable for een wig for doll size 38-40 cm.
At purchase of 2 pieces the fabric will not be cut in one piece…

€ 8,10